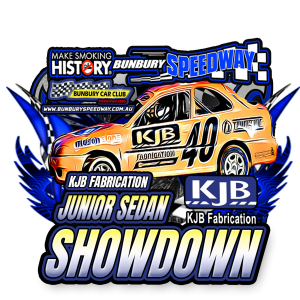 After the first night of racing at the
Bunbury Speedway
it is Kalgoorlie's Kayne Dellar who leads the points in the KJB Fabrication Junior Sedan Gold Cup, while Jake Fisher is on top of the tables in the New Star Junior Sedans.
The Top Star racing picked up right where it left off a few weeks ago, with newly crowned WA Champion Beau Oldfield racing his way from position five to defeat Kayne Dellar and Makayla Hinsey after former WA Champion Jhy Pack, who crossed the line in third, was relegated two positions for contact.
Heat Two saw Taj Vanzetti hold off a fast finishing Harrison Beres and Matthew Thomson while heat three saw Zach Munro lead the first six laps before Dellar made his way through, followed by Oldfield, Munro settling for third as the chequers flew. This race would also be the only one that had a stoppage for the Top Stars through the night after Makayla Hinsey collected the front straight wall.
The fourth heat was taken out by Pack ahead of Deagan McNally and Vanzetti in a depleted field, while heat five was another win for Pack ahead of Jaxon Buszan and Thomson.
The final heat of the night was a repeat of heat three with Dellar defeating Oldfield and Munro once again, Oldfield lucky to finish after suffering damage to the rear end, leaving the team with plenty of work to do over night.
In the New Stars, Baxter Trouchet kicked off his campaign with a win in the opening heat ahead of Lucas Ward and David Hough, while the second heat was an impressive victory to Summer Shore over Mitch Binning and Jake Fisher, Shore surviving a restart to take the win.
Heat Three saw Hough improve on his previous result to defeat Binning and Kaden Harrison, while heat four saw Trouchet become the first and only repeat winner in the New Stars, claiming the win over Fisher and Ward.
The final round of heats for night one saw Fisher breakthrough and stamp his claim on the top spot in the points with a win over Ward and Harrison, while the final heat of the night went to Jesse Hamon in a tight finish over Summer Shore and Hough.
Tonight's racing will kick off from 5pm, with the Top Stars competing in an A and B Dash to determine the inside and outside starting rows respectively for their twenty lap feature, while the New Stars will have one more round of heats prior to their fifteen lap main event.
All grid draws are now available on
www.speedwaygrids.com.au
, with live coverage throughout the event available via video on the Ash Media livestream, audio on the Jason Crowe Media live audio, live timing via race monitor and all the latest news and official results on the Dirt Track Nutters Facebook page.
Pics Courtesy Stanley Trescuri.
Top Star Junior Sedan Points After Night One
1. 95 Kayne Dellar 100
2. WA1 Beau Oldfield 92
3. 98 Jhy Pack 85
4. 121 Taj Vanzetti 76
5. 15 Matthew Thomson 63
6. 138 Zach Munro 63
7. 18 Harrison Beres 58
8. 29 Deagan McNally 48
9. 25 Alyvia Ferraro 47
10. 199 Jaxon Buszan 44
11. 64 Makayla Hinsey 41
12. 51 Kiastyn Oldfield 29
13. 33 Teliah Bosley 26
14. 3 Joshua Wardley 24
15. 40 Vince Lindsay 23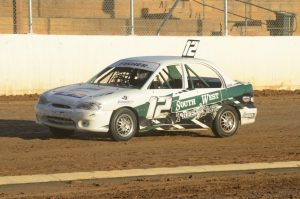 New Star Junior Sedans Points After Night One
1. 12 Jake Fisher 87
2. 8 David Hough 82
3. 18 Lucas Ward 79
4. 34 Baxter Troucher 78
5. 10 Mitch Binning 73
6. 3 Summer Shore 69
7. 5 Jesse Hamon 66
8. 173 Kaden Harrison 54
9. 78 Colby Bosley 44
10. 81 Oscar Amato 40
11. 55 Mia Dunne 36
12. 17 Levi Crowe 30
13. 70 Jake Leaman 29
14. 62 Bree Hinsey 28
15. 82 Sophie Amato 24
16. 11 Jayden Stads 14