After what has been the most upsetting off season in the teams brief history, with the sad loss of their team driver Jason Johnson, Diamond Bay Motorsport has released a racing schedule along with and most importantly, their much anticipated driver replacement for season 18/19.
After several conversations with some very high profile drivers in the months post JJ's passing, team boss Steven Stathy was proud to announce today that World of Outlaws hard charger, Cory Eliason, will be their chosen driver for the east coast stint of their racing campaign.
It comes on the back of an arduous reset and rethink for their racing efforts for the coming season. Stathy was reasonably upbeat about their choice for the biggest races on the east coast this season:
"It took us a while to get our mojo after JJ's passing," he stated. "We had to really think about what and how we were going to do it all this season with a new face."
Stathy openly admitted to the difficulty of having to go through the whole driver process again, but, admitted that the industry they were in is very transient and volatile.
"It would be nice to think, we could have the same driver year in, year out, but, that's unfortunately not how this gig works."
The star who resides in Kingsburg, California in the US has proved, particularly this season that he is no slouch behind the wheel, already taking a couple of wins in the prestigious World of Outlaws circuit, as well as track championship titles in the past couple of seasons.
His attitude and hard nosed racing style earned him recognition from the Dennis Roth Racing outfit where he has just finished a full time 70+ racing schedule with the team in 2018 across the US.
Both Steve and his father Paul are excited to land the US ace and believe that can emulate their former success they have shared with a few drivers that have spent time with their prestigious team in the last few seasons.
"We think we can have a good synergy with Cory," Steve said. "It's all brand new gear for him and we are racing to win, he knows that and what the team is about."
Their Western Swing racing schedule will be contested, but, due to Cory's extremely busy racing commitments, they will more than likely opt to have multi national and WSS Champion, Brooke Tatnell back behind the wheel for his second season, but, that will be confirmed later in the season.
In the mean time, the legion of DBM fans can expect to the W26 machine at the front of the pack come race time at the biggest races this season, starting at the prestigious Speedweek on the east coast…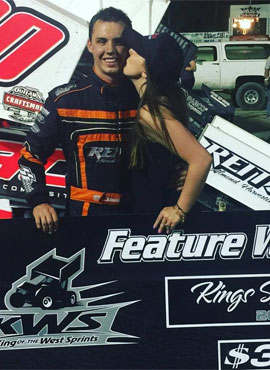 Cory Eliason with one of his many accolades throughout his stellar career, is keen to get behind the wheel of the Diamond Bay Motorsport W26 this season.