Article Courtesy of SEG Media
JAMES McFadden and Monte Motorsport are the Krikke Boys champions for 2019 after winning an epic 35-lap feature race at Bunbury Speedway on Saturday night.
McFadden started from P2 for the time-honoured event in front of a massive crowd, taking the win from Kerry Madsen and Krikke Motorsport and Jason Kendrick. McFadden and Madsen threw everything at each other in the final two laps that went down to the wire with the margin being 0.592 of a second. It was a good recovery for the W17 driver who was 12th quickest in qualifying and progressed up the starting order thanks to some good times in the Bronze and Silver Dashes. The race was only a few laps old when Todd Davis spun coming out of turn four, forcing the field to regroup.
Madsen was the early leader from McFadden and polesitter and popular local driver Jamie Maiolo. On the restart Brodie Minchin pulled infield with power steering issues. Nine laps into the race and Madsen was into lapped traffic but it came to nothing when Danny Porter spun in turn four, forcing another nose-to-tail restart. Madsen then powered away from McFadden and Tatnell who was now up into third On this restart Kendrick was ninth and languishing around the high line in the middle of the pack With 18 laps remaining Ryan Lancaster spun in turn two, just as Madsen was back in traffic again.
With 11 laps remaining, McFadden asked the question of Madsen and got the answer he was looking for, hitting the front. As the race came to the dying stages Wormall spun on the back straight, forcing a green-white-checker scenario that saw McFadden and Madsen trade positions but at the same time allow each other enough racing room. On the restart Kendrick, who was fourth, got by Tatnell to get onto the podium. Tatnell settled for fourth in the Diamond Bay Motorsport W26 – his third fourth from the past three shows. Kaiden Manders, who started from P5, was fifth, ahead of Glen Sutherland who came out of P9, Jamie Maiolo, Daniel Harding who started and finished eighth, Ben Butcher who finished ninth after starting from P11 and Andrew Priolo who started 13th and finished in 10th.
David Murcott, driving the W95 for this show, was 11th after starting from P20 in what was a solid recovery after crashing out in a heat race. Callum Williamson, in only his second weekend back behind the wheel of the W3 out of Geraldton, started 23rd and put in a solid effort to finish 12th. Tom Payet started from 10th and finished 13th, while American Harli White was 14th after starting 15th. Other finishers were Lancaster, Wormall, Darren Mewett and Kye Scroop. Jason Pryde, who started P7, was a non-finisher late in the race, and finished on the infield with Porter, Minchin and Davis.
Brad Maiolo didn't start the feature race with engine issues, with AJ Nash also being a non-starter. At the start of the show Madsen was the quickest with a 13.862 second lap, bettering that of Tatnell's 13.872, Kendrick's 13.910, Jamie Maiolo's 14.005 and Pryde's 14.015. Heat wins went to Madsen, Tatnell, Kendrick, Butcher, Priolo and McFadden. The event was also the Grand Final of the Maddington Toyota Sprintcar Series. As a result of his podium finish Kendrick has claimed back-to-back championships on 2448 points, a comfortable win in the end over Jamie Maiolo's 2366 points.
Because he was a non-starter in the feature race, Brad Maiolo dropped from third to fourth overall on 2276 points, with Manders, thanks to a fifth, edging into fourth with 2302 points.
The show was also the first round of the Maddington Toyota Triple Crown, with the next two rounds being on March 30 and April 13.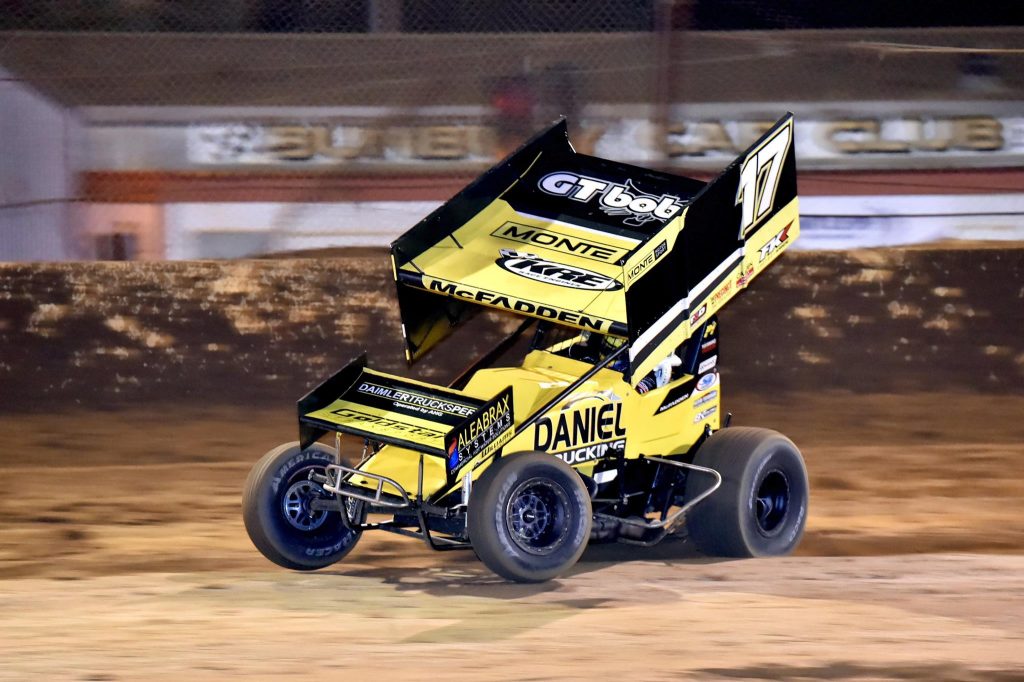 RESULTS Qualifying: Kerry Madsen 13.862, Brooke Tatnell 13.872, Jason Kendrick 13.901, Jamie Maiolo 14.005, Jason Pryde 14.015, Daniel Harding 14.024, Kaiden Manders 14.037, Brad Maiolo 14.040, Glen Sutherland 14.043, Tom Payet 14.077, David Murcott 14.082, James McFadden 14.011, AJ Nash 14.168, Danny Porter 14.192, Harli White 14.214, Ben Butcher 14.260, Mitchell Wormall 14.283, Andrew Priolo 14.340, Callum Williamson 14.342, Kye Scroop 14.351, Ryan Lancaster 14.434, Darren Mewett 14.572, Brodie Minchin 14.631, Todd Davis 14.680.
Heat 1: 1st Kerry Madsen, 2nd Daniel Harding, 3rd James McFadden, 4th Kaiden Manders, 5th Andrew Priolo, 6th Callum Williamson, 7th AJ Nash. DNF: Todd Davis.
Heat 2: 1st Brooke Tatnell, 2nd David Murcott, 3rd Jason Pryde, 4th Bradley Maiolo, 5th Mitchell Wormall, 6th Kye Scroop, 7th Danny Porter, 8th Brodie Minchin.
Heat 3: 1st Jason Kendrick, 2nd Jamie Maiolo, 3rd Glen Sutherland, 4th Tom Payet, 5th Ben Butcher, 6th Darren Mewett, 7th Ryan Lancaster, 8th Harli White
Heat 4: 1st Ben Butcher, 2nd Ryan Lancaster, 3rd Kaiden Manders, 4th Jamie Maiolo, 5th Danny Porter, 6th Kerry Madsen, 7th Brad Maiolo. DNF: Callum Williamson.
Heat 5: 1st Andrew Priolo, 2nd Tom Payet, 3rd Kye Scroop, 4th Brooke Tatnell, 5th Glen Sutherland, 6th Daniel Harding. DNF: AJ Nash. DNS: Brodie Minchin.
Heat 6: 1st James McFadden, 2nd Todd Davis, 3rd Harli White, 4th Mitchell Wormall, 5th Jason Pryde, 6th Darren Mewett, 7th Jason Kendrick. DNF: David Murcott.
Midpack Madness: 1st Glen Sutherland, 2nd Tom Payet, 3rd Ben Butcher, 4th Danny Porter, 5th Andrew Priolo, 6th Mitchell Wormall, 7th Harli White. DNF: Brad Maiolo.
Feature: 1st James McFadden, 2nd Kerry Madsen, 3rd Jason Kendrick, 4th Brooke Tatnell, 5th Kaiden Manders, 6th Glen Sutherland, 7th Jamie Maiolo, 8th Daniel Harding, 9th Ben Butcher, 10th Andrew Priolo, 11th David Murcott, 12th Callum Williamson, 13th Tom Payet, 14th Harli White, 15th Ryan Lancaster, 16th Mitchell Wormall, 17th Darren Mewett, 18th Kye Scroop. DNF: Jason Pryde, Brodie Minchin, Todd Davis. DNS: Brad Maiolo, AJ Nash