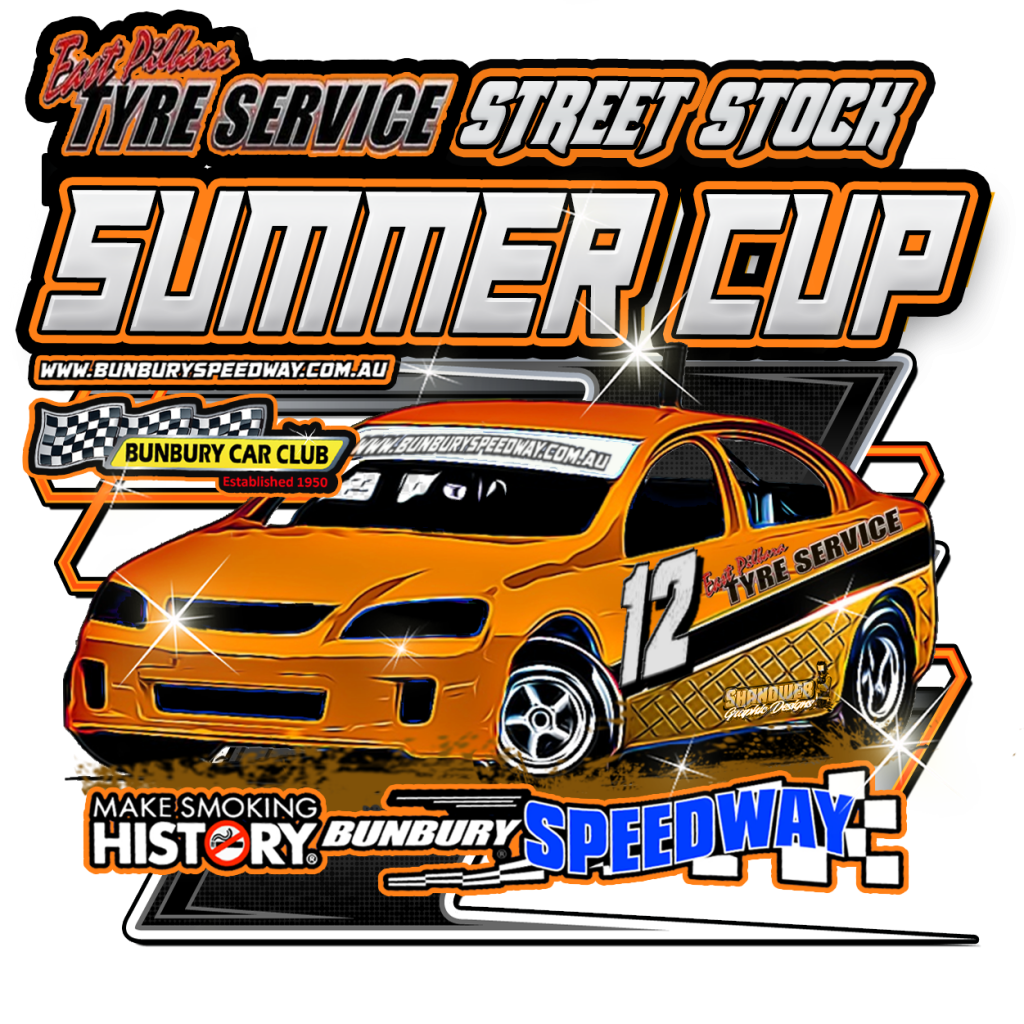 Jamie Oldfield is the overnight leader of the East Pilbara Tyre Service, Street Stock Summer Cup, which would be an eventful night for some.
Freddy Kinsella would opening the heat in a close finish with Jamie Oldfield with the trio separated by less than a second at race end. Paul Briggs would take heat two, but had a close shave with early leader Matthew Iwanow who spun in front of the field. Briggs narrowly avoided Iwanow, who recovered to finish fourth, with Jamie Goodwin and Tim Matthews filling the minor placings. Heat three would see Jack Favero take the win after starting from position eight, with Lachlan Dellar and Hayden Norman completing the top three. The final heat of the opening round would see Damon Thomson lead from start to finish to down fellow Collie driver Ethan Genev and Gordon Wyatt.
Jamie Oldfield was challenged early in heat five, but asserted his authority late to win from Scott Hunter and Hayden Norman. Damon Lyall meanwhile, could not his car to fire and was forced infield without completing a lap. Heat six would see Jack Favero take the honours after starting on the third row, taking the lead on lap three. Jake Williams and David Padmore had a good battle for the minor placing but Favero was too good. Freddy Kinsella continued his strong form winning heat seven convincingly, despite multiple stoppages which saw the demise of Stefani Ameduri, Rhys Jones and Tim Pratt. David Fall would win narrowly over Gavin Minty in heat eight with both cars literally crossing the line together in the closest of the night to that point.
Ethan Genev and Gordon Wyatt would swap the lead position three times in heat nine, before the duo hit the line side by side, with Genev winning by 0.099, while Jack Favero completed the top three. Jamie Oldfield would come from the back of the field to take heat ten, easily accounting for Damon Thomson and Kade Helms. Damon Lyall finally got reward for effort in heat eleven, after having plenty of drama earlier in the night. Tim Matthews continued his solid run finish second ahead of Joshua Aspinall after Gavin Minty was relegated for passing on the infield. The final heat of the night saw Hayden Norman lead all eight laps, downing David Padmore and Stefani Ameduri. The race was declared after Paul Briggs placed the heaviest hit on the new concrete wall, slamming into it in the main straight.
Tonight the Street Stock drivers will endure a top eight dash to determine the first four rows on the grid, while the remaining drivers will race in two, twelve lap B Mains, with the first seven in each of those to fill positions 9-22 in the A Main. The remaining drivers will get one final chance to advance to the 30 lap main event, via a Last Chance Qualifier, where the first two will start off row twelve in the A Main.
Racing commences at 5.00pm
Street Stocks Points After Night One
1. WA1Jamie Oldfield 100
2. 18 Jack Favero 95
3. 318 Freddy Kinsella 89
4. 6 Hayden Norman 82
5. 4 Ethan Genev 81
6. 26 David Padmore 74
7. 24 Tim Matthews 74
8. 10 Damon Thomson 70
9. 95 Gordon Wyatt 68
10. 12 Kade Helms 63
11. 616 Jamie Goodwin 58
12. WA10 David Fall 56
13. 3 Gavin Minty 54
14. 71 Scott Hunter 53
15. WA12 Paul Briggs 51
16. 195 Lachlan Dellar 49
17. 83 Stefani Aneduri 46
18. WA24 Jake Williams 42
19. 27 Damon Lyall 41
20. 72 Russell Gunn 38
21. 19 Steve Rodley 37
22. 7 Joshua Aspinall 37
23. WA8 Matthew Iwanow 35
24. 56 Ethan Cooper 35
25. 2 Marty Kelly 34
26. 66 Ben Norman 32
27. 70 Adam Houston 27
28. 5 Barry Roberts 26
29. 41 Jacob Gittos 26
30. 8 Rohan Skraha 24
31. 31 Jake Avins 24
32. 16 Colin Metcalfe 22
33. 23 Jamie Simmonds 21
34. 21 Rhys Jones 19
35. 44 Tim Pratt 18
36. 9 Blake Iwanow 16
37. 337 Christian Williams 16
38. 17 Brian Jackson 11