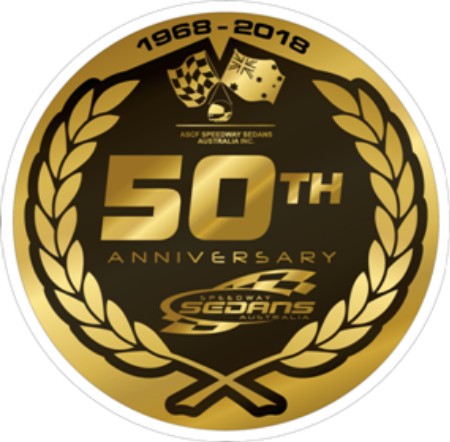 A record 142 will converge onto the Make Smoking History Bunbury Speedway on October 20 for the Speedway Sedans Australia 50th Anniversary Meeting with all five National categories that race in Western Australia competing on the one program, something that very rarely happens.
For the first time ever, all five State Champions will be competing on the same program, with drivers coming from as far as Broome in the north to Albany in the south with Victorian Junior Sedan driver, Todd Atkins being the only interstate entry and as the Junior Sedan State Champion will headline the massive field for the division.
West Australian Street Stock Champion, Hayden Norman will head a field of thirty six Street Stock entries, which includes former National Champions Jamie Oldfield, who won one of his National Championships at the venue and local Michael Hamon.
Production Sedans will have the most amount of cars contesting as forty four nominations being received. State Champion Barry Rose will look to continue his form as former National Champions, Rod Musarra, Tim Green and Ron Belfield look to dethrone the Sigma driver.
Anthony King will be looking to start his season as the State Champion with a win in the Modified Sedan event. King will be joined by former State Champions, Clint Noakes, Matt Noakes and Allan Mortimer.
Warren Minshull from will be looking to gain some experience at the Bunbury Clay way as he set to headline the Super Sedan ranks. The two time State Champion, will be joined by Gary and Dustin Higgs, and Kevin Bell. Super Sedans will be back in action on December 26.
Racing is set to start at 2pm.
OFFICIAL NOMINATIONS
Junior Sedans (36)
W1 Todd Atkins (VIC)
W2 Tyler Fraser
W4 Emma Ahearn
W5 Libby Macpherson
W7 Alex Swift
W8 Brody Day
W11 Erin Fraser
W11 Brock Lake
W13 Elysha Cooper
W15 Matthew Thomson
W22 Jesse Steele
W24 Blake Iwanow
W24 Aiden Doak
W26 Jasmine Arnold
W31 Ethan Cooper
W55 Padraig Dunne
W57 Brooke Sutton
W63 Bryden Southwell
W66 Seth Hinsey
W67 Nikita Donohoe
W73 Darryl George
W75 Tylah Steele
W77 Mitchell Delaporte
W84 Beau Oldfield
W87 Riley Beaumont
W88 Izzac Delaporte
W95 Izak Davies
W95 Kayne Dellar
W98 Jhy Pack
W108 Blake Webb
W119 Joshua Ahearn
W121 Taj Vanzetti
W195 Lachlan Dellar
W198 Brandon Buszan
W295 Chloe Dellar
W343 Tanika Webb
Street Stock (36)
W1 Hayden Norman
W3 Barry Rewell
W5 Jeff Rogers
W5 Stephan Cooper
W7 Michael Hamon
W8 Dave Watson
W10 Damon Thomson
W11 Greg Hall
W15 Wayne Thomson
W16 Clint Hadley
W17 Aaron Sutton
W18 Jack Favero
W19 Jamie Terkildsen
W21 Evan Wakefield
W26 David Padmore
W28 James Westerman
W31 Cody Avins
W32 Ben Ferris
W37 Jeremy Ferris
W38 Bob Wakefield
W44 Peter Herbert
W51 Jamie Oldfield
W51 Justin Melhuish
W52 Paul Bowman
W53 Glen Graham
W66 Ben Norman
W69 Paul Joss
W70 Barry Hunter
W71 Scott Hunter
W77 Daniel Sutton
W81 Peter Walker
W83 Daniel Ameduri
W85 Warren Oldfield
W89 Carl Pickersgill
W199 Philip Lycholit
W318 Freddy Kinsella
Production Sedans (44)
W1 Barry Rose
W2 Travis Castagna
W3 Frank Does
W4 Lee Watt
W5 Ryan Penn
W5 Matt Prunster
W6 Hayden Norman
W7 Leticia Hamon
W7 Coby Stevens
W8 Grant Hutchings
W11 Jake Avins
W12 Rod Musarra
W13 Tim Green
W15 Jason Oldfield
W17 Craig Lenane
W18 Garry Sutton
W20 Graeme Riley
W21 Rick Musarra
W25 Rob Bawdon
W26 David Brewer
W27 Mike Kinnear
W31 Kane McDiarmid
W33 Reece Parton
W36 Joe Wilson
W39 Jeff Kendall
W40 Beau Riley
W41 Rickie Nuccini
W42 Bev Brewer
W51 Jamie Oldfield
W54 Graeme Rafferty
W57 Kelsey Beard
W61 Ron Belfield
W61 Jake Blight
W62 Murray Wells
W65 Keith Fitzgerald
W78 Jacky Moroney
W83 Daren Currell
W86 Wayne Leviston
W92 Ricky Williams
W92 Shane Devonshire
W95 Kyle Sayer
W99 Benny Curtin
W115 Jayke Malcolm
W666 Peter Katona Jnr
Modified Sedans (13)
W1 Anthony King
W2 Branden Fraser
W6 Paul Stevens
W13 Shane Dubberlin
W18 Adam Houston
W20 Matt Noakes
W21 Rick Musarra
W23 Clint Noakes
W56 Sandy Macpherson
W57 Nathan Penn
W58 Jayden McCuish
W60 Richard Nelson
W74 Allan Mortimer
Super Sedans (13)
W1 Warren Minshull
W5 Kevin Bell
W6 Tristan Green
W13 Andrew Kennedy
W16 Damo Wallinger
W19 Darren Ahearn
W33 Glenn Smith
W38 Adrian Geary
W76 Terry Green
W81 Gary Higgs
W83 Dustin Higgs
W88 Adyme Harvey
W96 Steve Larson