Billy Moyer has claimed the 837th win of his career as he raced to victory in the fourth round of the Di Candilo Steel City USA vs WA Invasion Tour, but it was Tyler Erb who did enough to claim the win in the whole tour, just six points ahead of Moyer.
It was a rough and tumble night at Bunbury Speedway, which saw just thirteen of the initial nineteen cars take the green as a number of cars succumbed to issues throughout the heat races.
Moyer grabbed the lead from the get go, with Erb chasing after him, the top two very quickly pulling away from third placed Brad Blake,
As the duo came out of turn four to complete the second lap Erb went low and just swept underneath Moyer to grab the lead and from here he began to race away.
Erb led Moyer, Blake, Michael Holmes and Jamie Oldfield with four complete when Simon McNab spun heavily into the turn four wall to bring out the first caution of the race, with McNab becoming the first retiree.
Erb would again lead away and just as the race settled again, Moyer closed the gap on Erb and suddenly moved straight underneath him, grabbing the lead and beginning to pull away from Erb in what was a spectacular move and was never headed from then on in, downing Erb who would also be crowned the USA Invasion Tour Series Champion for the second straight year and local Blake thrilling the crowd with a third place finish.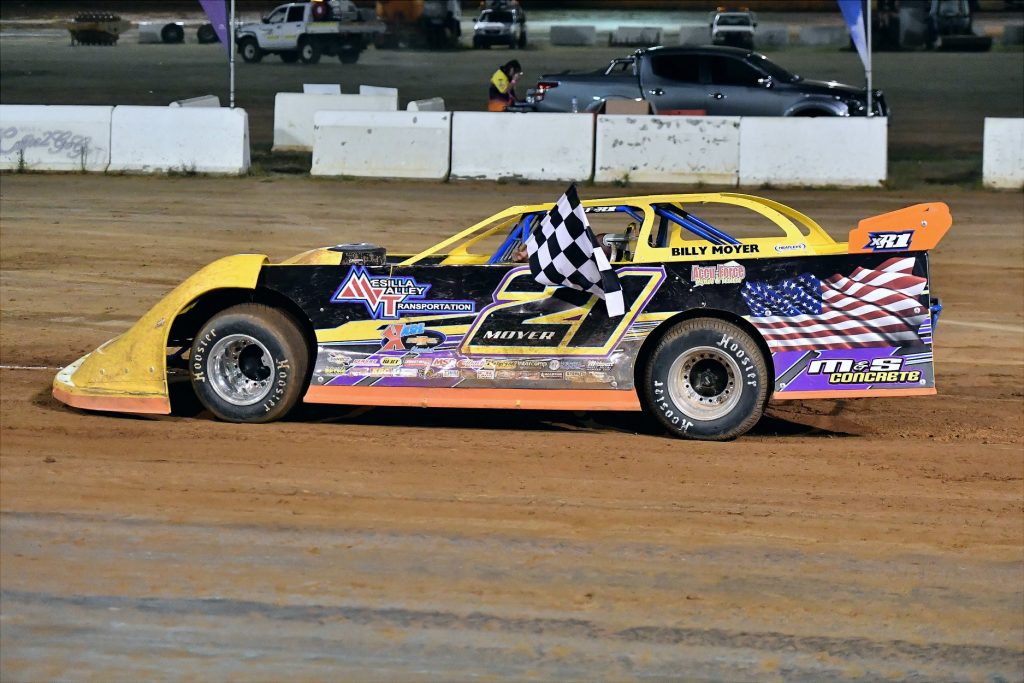 Brad Maiolo bounced back to form by winning round 12 of the Maddington Toyota Sprintcar Series at Bunbury Speedway on Saturday night.
He was in control for the 25-lap final, crossing the line 3.033 seconds ahead of Jason Kendrick and his older brother Jamie Maiolo.
It was the confidence-boosting result the younger of the two LJM Racing drivers needed after being in a strong position in the previous two feature races, only to crash out.
At the last Bunbury meeting Maiolo was leading when he was baulked by a slower car in lapped traffic and he crashed out.
Brad started from P3 for the final but hit the lead with only a couple of laps in the books and he was never challenged.
 Barry Rose would come up trumps in the South West Production Sedan Showdown, winning the second round and the series in convincing fashion downing Rickie Nuccini and Mike Kinnear